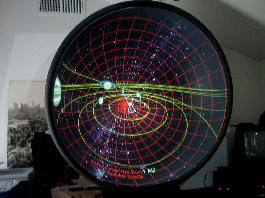 Member, American Astronomical Society
Micro Dome
is a real-time, portable planetarium for use in the classroom, lecture hall or museum. Available for purchase as a low cost alternative to traditional horizontal or inflatable planetariums.


Explore
the solar system & stars from the surface of Earth or traveling through time & space. Simple to use, the Micro Dome is suitable for all ages from K -12 to university.


Ansible
offers "on site" programs for K-12, university, teacher education and corporate events. We offer a wide range of demonstrations to teach and illustrate basic to advanced astronomy.